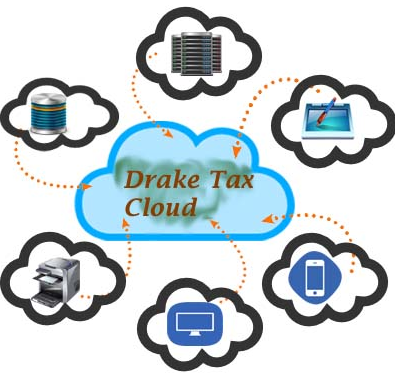 VyonCloud's customized cloud solutions allow you to maintain your most important desktop applications such as Drake Tax Software in a secure environment. Utilizing a Drake Tax Cloud Hosting Solution in a highly secure data center (the "cloud"), rather than an in-house server, gives you the ability to access your data from a Mac, PC, iOS, or Android device and work from anywhere, just as you would in your office. Users are no longer tied to their desk or limited to access during regular business hours.
Using Drake Tax Cloud Hosting provides a large variety of benefits including:
Cost and uptime predictability
User efficiency
Reduced hardware costs with "Bring-your-own-device" advantages
Added mobility
Hosted Drake software is fully integrated with Microsoft Office applications.
Hosted full-featured software is faster in data accessibility and enhances functionality
CPAs and clients can log in and work on the same document at the same time making real-time edits
How it Works
With application cloud hosting, our cloud migration team builds your new secure cloud server, usually within hours, depending on the size of your files and data. Steps include the installation of your licensed applications, quick, efficient migration of your data and assisting all users with simple cloud connection training with little to no downtime.
All hosted applications, including Drake Tax, are accessible to all relevant users from anywhere with any device. The login and access experience with the Drake Tax Cloud application will remain virtually the same as before with the added security of a top-tier, state-of-the-art data center environment.
When your application or infrastructure is moved to the cloud, you place your business information on a more powerful and robust platform. Users will also avoid several other common problems that can occur with on-premises servers – backup issues, damage to hardware that can be caused by poor ventilation or humidity, or failure to carry out routine maintenance and upgrades. With Drake Tax Cloud Hosting, all of this is handled for you and all of your clients' tax information is protected.
Switching to Drake Tax Cloud Hosting
Providing a fast, reliable migration of your Drake Tax software, our experienced technicians will do everything for you so you can focus on your business. Additional benefits to Drake Tax Cloud Hosting with VyonCloud includes no contracts, a 15-day free trial to test both service and ease of use, 15-day onsite backups, and free support.
Trusted by accounting professionals across the United States and Canada, contact VyonCloud today at 1-855-925-6838. Gain a competitive edge with Drake Tax Cloud Hosting, lessen your IT frustrations and benefit your bottom line today.